Latest News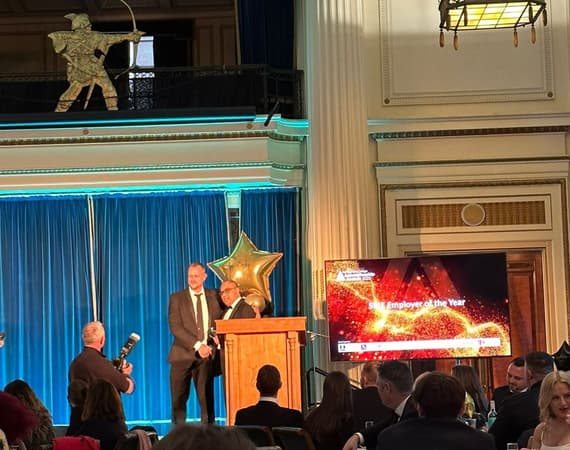 SME Employer of the year!!
This week we have been incredibly proud to be awarded the 🎉 SME Employer of the year 🎉at the Nottingham College Apprenticeship Awards 2023. We couldn't be happier about this accolade and look forward to welcoming more apprentices over the coming years.

When we were given the award, Nottingham College said this about Johns:

Johns of Nottingham deserves the SME Employer of the Year award for their outstanding commitment to developing skilled Painters & Decorators through their apprenticeship programme.

Their support for apprentices, the college and the wider sector is evident, with successful apprentices flourishing within the company and becoming industry ambassadors. Their generosity in providing training rooms, materials and industry advice further demonstrates their dedication to nurturing talent and advancing the sector.
Posted: 24 May 2023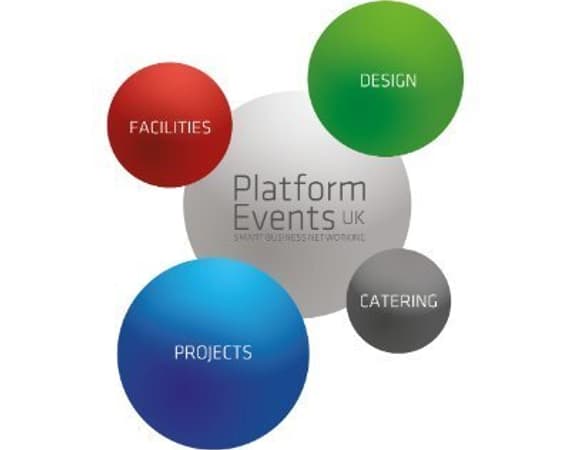 Platform Events UK - The Facility Management event
Our Operations Director Charlie and Commercial Manager Alex attended the 2023 Platform Events UK at the O2 Intercontinental Hotel in London to showcase our involvement in Facilities Management sector.
The Platform is designed to bring together time restricted Facilities Management Buyers and Suppliers to define and fulfill new project and day-to-day estate management supply chain needs.
Based on relevant business profiling; one-to-one meetings between Buyers and Suppliers are pre-selected, pre-booked and confirmed back prior to the event, so everyone arrives at the event Platform fully informed and ready to do business.
Posted: 28 Apr 2023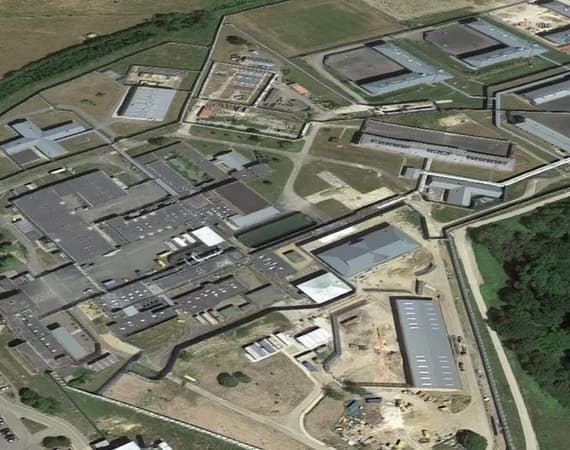 HMP Stocken
Johns have recently procured the decoration package for the new accommodation block at HMP Stocken, Rutland for Wates Construction.
Posted: 12 Apr 2023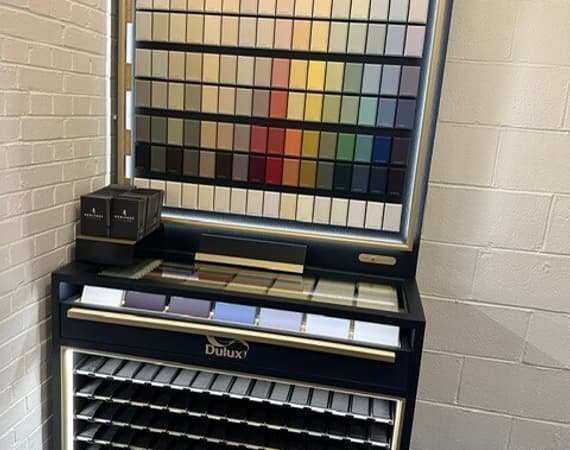 Dulux Heritage mixing machine!
The Dulux Heritage colour collection now available at Johns Decorating centre - get your skates on for all your painting needs!
Posted: 02 Feb 2023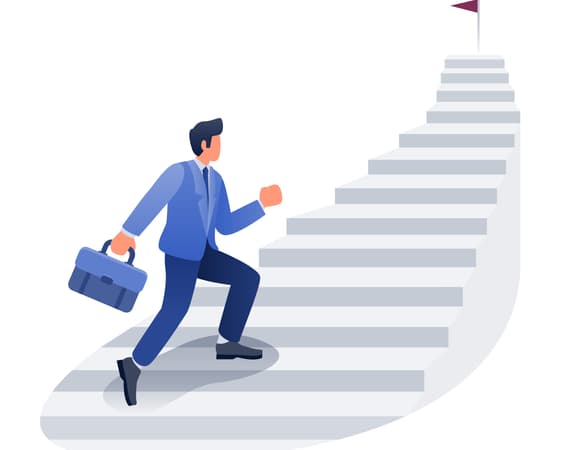 Promotions!!
We are delighted to announce two members of our team who have recently been promoted into new roles within the business.
Congratulations to Charlie Wileen who has been promoted to Operations Director.
Charlie has been a member of the team for over 27 years at Johns of Nottingham. He started his apprenticeship in his early twenties as a painter & decorator and after eight years of working on site, Charlie moved into the office to start his role as an Estimator. After many successful years as an Estimator, Charlie accepted the role as Operations Manager looking after the team of Painting Contracts Managers and Operatives. We wish him all the best in his directorship.
Congratulations are also in order to Michael Cope who has been promoted to Health & Safety Manager.
Michael has been part of the team for over 7 years as our Health & Safety Advisor, assisting Johns of Nottingham in the H&S department looking after all divisions within the business. Due to the increased responsibility of H&S within the construction industry and Johns of Nottingham's wide range of sectors we cover. Michael is now responsible for managing the health, safety, and wellbeing of our staff and working sites at Johns of Nottingham.
We wish both Charlie & Michael every success in their new promotions.
Posted: 19 Aug 2022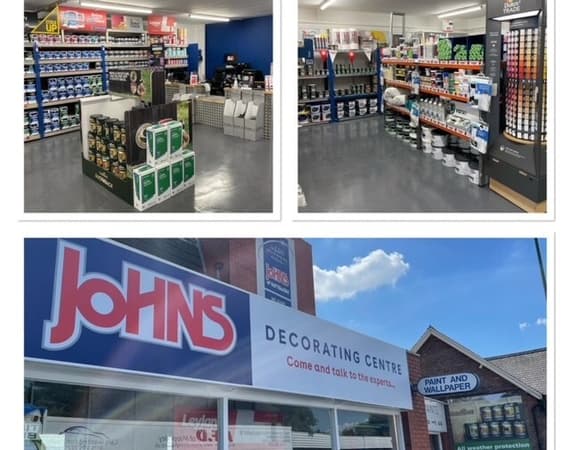 Decorating Centre refurb!
Refit - complete! Why not come down to our Decorating Centre in the heart of Nottingham to check out our newly renovated shop! Open to the trade and public offering brilliant discounts on all trade paints, sundries and wallcoverings. We can mix over 5000 colours in store, whilst you wait!
Posted: 23 Jun 2022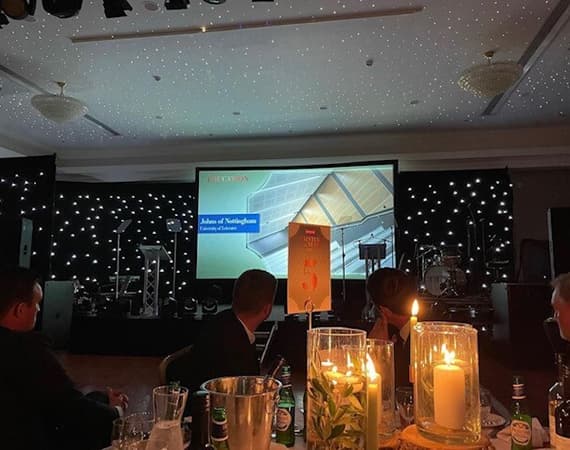 Painter of the Year 2021
Great night celebrating Johnstones Painter of the Year 2021 at Carden Park, Cheshire.
Johns of Nottingham got voted by the judges as finalists in the Education category, unfortunately we didn't win the overall award but delighted to be recognised within the industry!
Posted: 06 Jun 2022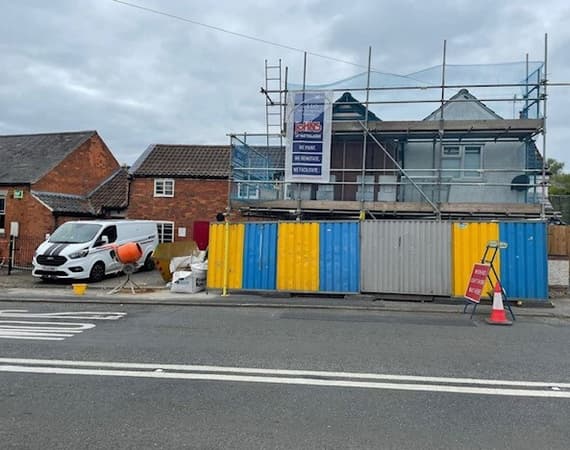 Insurance Project!
Scaffold is up and works have commenced! Johns are working with one of our insurance clients to rebuild the whole front of this damaged property and reinstate back to its original former glory.
Posted: 04 May 2022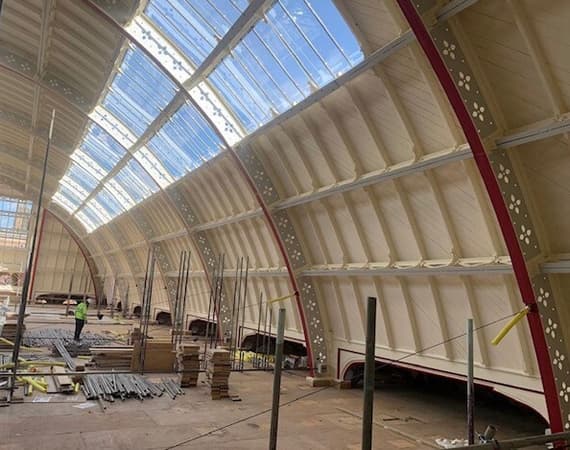 Derby Market Hall
Phase 1 of Derby Market Hall - complete! Johns have been working on this bespoke project for over 2 years now painting all the steelwork. Over 62 miles of scaffolding was erected to ensure a safe working environment. Phase 2 to commence summer 2022.
Posted: 22 Apr 2022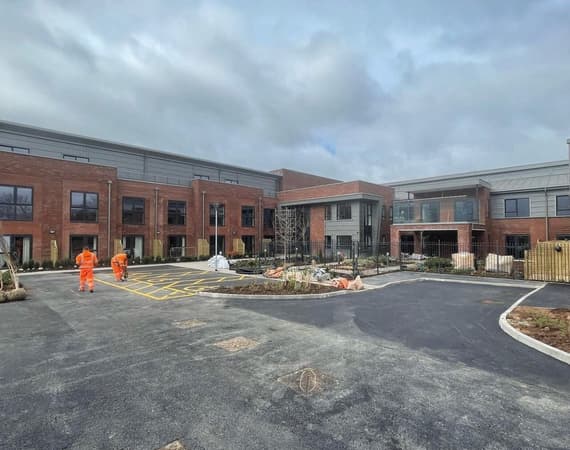 Near on completion!
One of our live sites in Nottinghamshire close to hand over! Been a very interesting project especially when each of the 80 rooms have a different bespoke wallpaper design!
Posted: 05 Apr 2022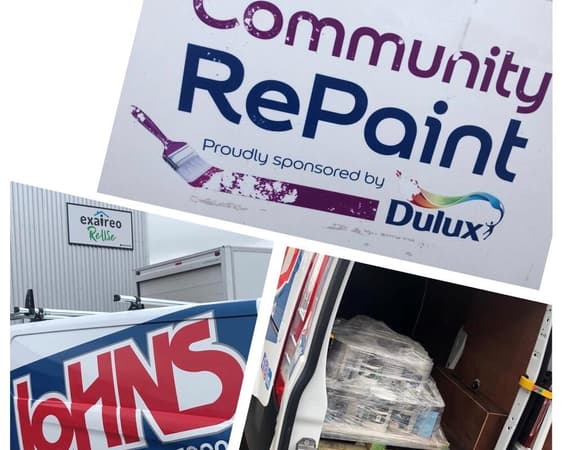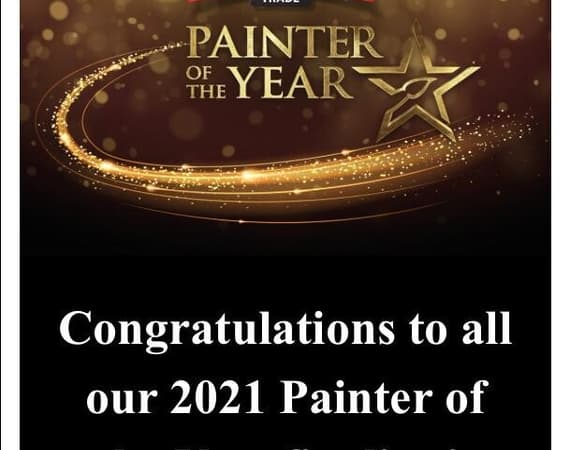 Johnstones Painter Of The Year!
Johns of Nottingham were shortlisted for the 'Painter of The Year' award, hosted by Johnstones Trade following the works completed at the University of Leicester. If you would like to find out more about this case study, click the link below!
Engie - University of Leicester - Johns of Nottingham
Posted: 12 Jan 2022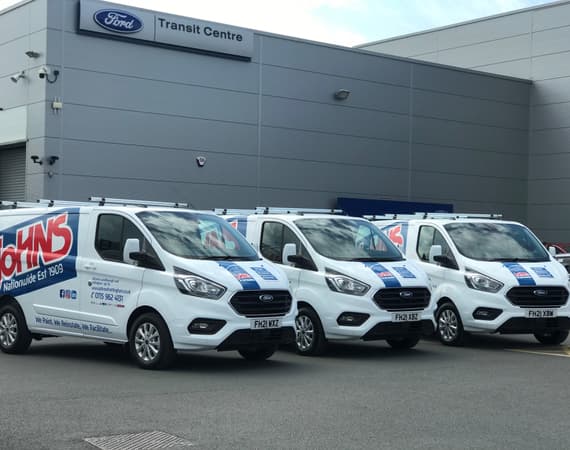 New 21 Reg Vans added to the Fleet!
We are pleased to announce the delivery of our brand new 21 plate vans to the fleet! 
Posted: 13 Jul 2021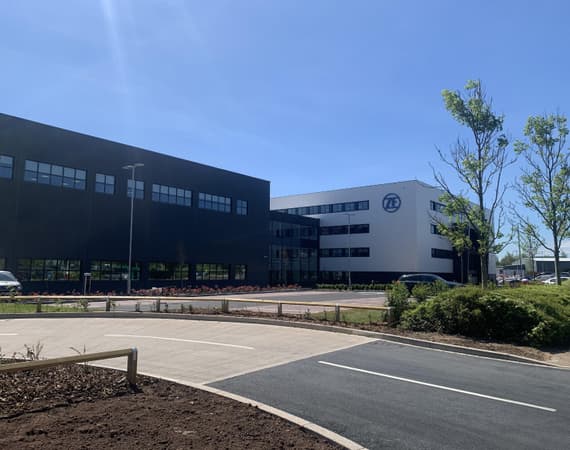 Recently Completed Project - ZF Solihull
We are pleased to announce one of our long term projects, ZF in Solihull has now come to an end! Our site team completed on site last week, both main contractor and client very pleased with the works carried out by Johns of Nottingham.
Posted: 10 Jun 2021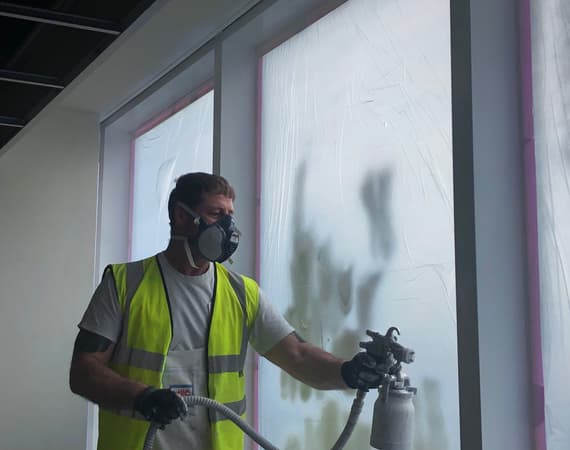 The Atrium - Uxbridge
HVLP Spraying of the Internal Glazing Surrounds and Dado Panelling, restoring to the original condition.
Posted: 09 Feb 2021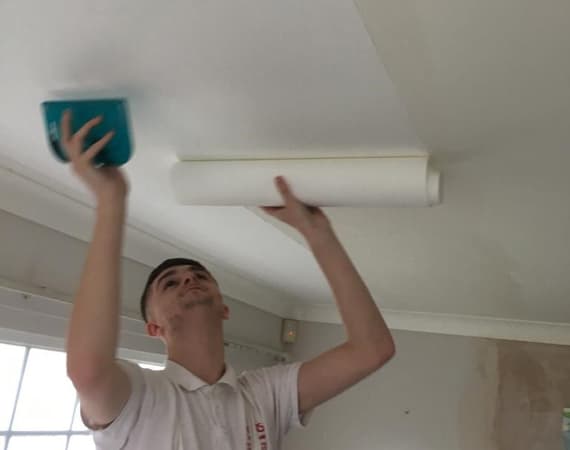 2nd year apprentice
One of our 2nd year apprentices carrying out the installation of Wallrock lining paper at one of our policy holders homes.
Posted: 27 Jan 2021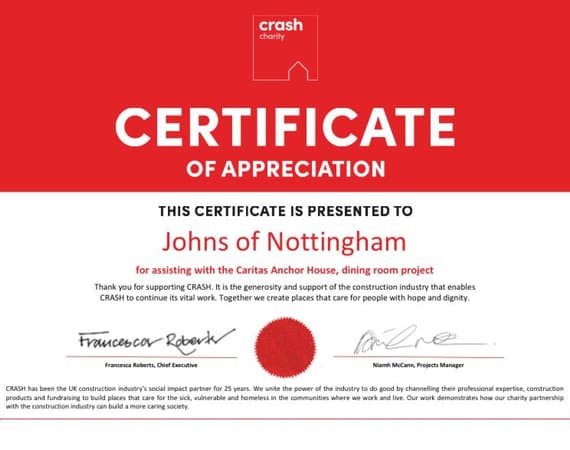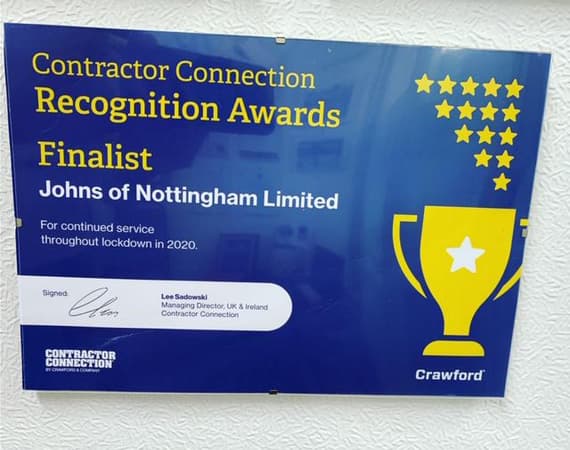 Finalist!
Our Insurance Reinstatement division has been awarded for their continued service throughout the lockdown period by Crawford & Company
Posted: 15 Sep 2020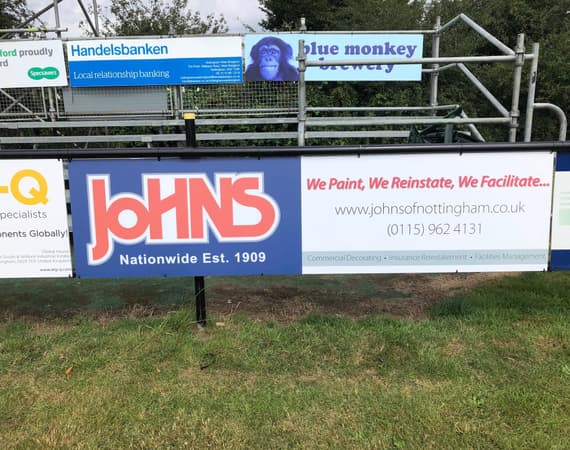 West Bridgford Rugby Football Club
Johns are delighted to announce the pitch side sponsorship at West Bridgford Rugby Football Club for their 2020/21 season. We look forward to our ongoing relationship in future seasons!
Posted: 01 Sep 2020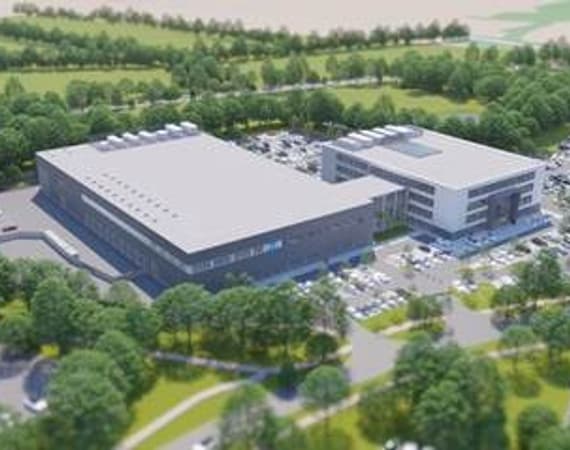 Recent win for the Commercial Decorating team - Project ZF
After a tender process instructed by the client, we are delighted to have been awarded the internal decorations work at two large commercial units starting autumn 2020.
Posted: 04 Aug 2020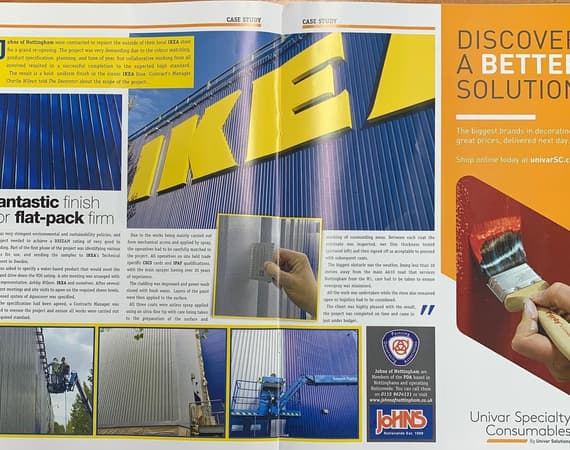 Ikea Nottingham
Great news article in the decorator in relation to our Ikea project in Nottingham. 
Posted: 24 Jun 2020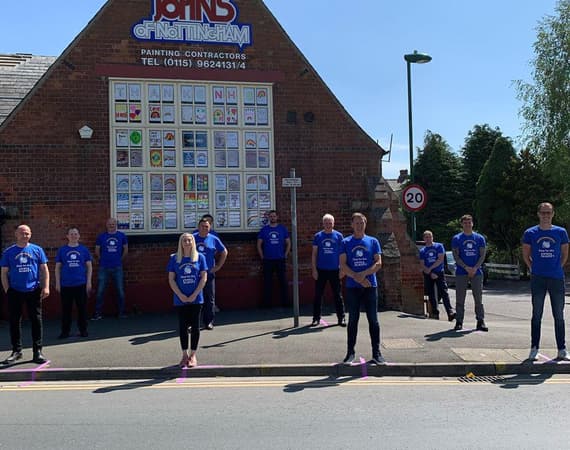 Head Office Window
IT'S COMPLETE! A massive thank you to all who have helped in making these NHS posters for our 70 pane HQ window! Donations will be made to the @nhscharitiestogether . Also a huge shout out to Jemima's Clap for the NHS T-Shirts
Posted: 18 May 2020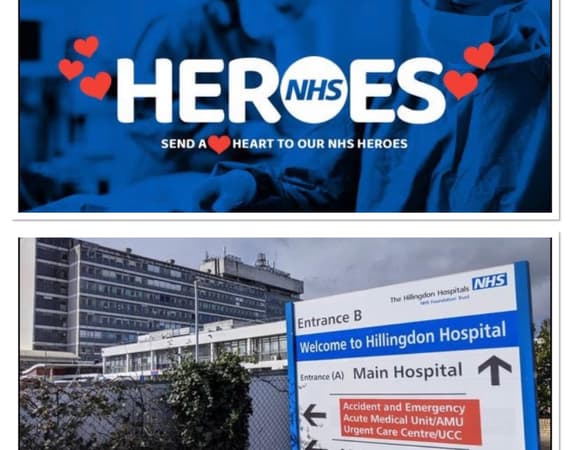 Thank you!
After a speedy tender process stage, Johns of Nottingham have teamed up with MTX Contracts at the Hillingdon Hospital, Middlesex to undertake hygienic decorative coatings to the 28 bed, Decant Ward with further expansion to help those effected by the Coronavirus. We would like to take this time to thank our NHS and all the frontline workers in difficult time. 

Posted: 20 Apr 2020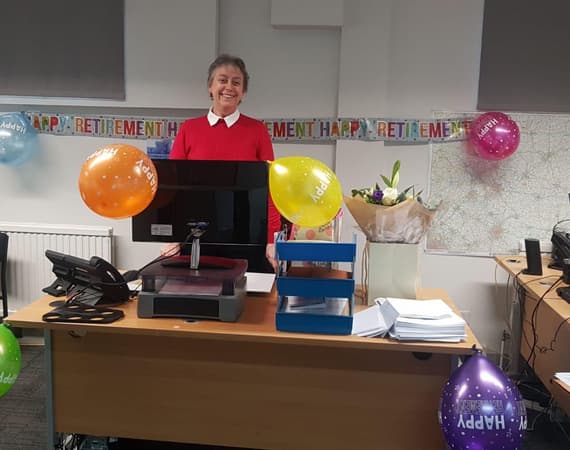 Linda Retires after nearly 27 years!
After nearly 27 years of service to Johns of Nottingham. Today is the last day Linda sits at her desk helping our Insurance customers and clients with their claims. Linda has been a valuable member of the team and has seen the real progression of the Insurance Reinstatement division from it's humble beginnings. 
From everyone at Johns of Nottingham, we would like to thank you for everything you've achieved at Johns and wish you a happy retirement :) 
Posted: 21 Feb 2020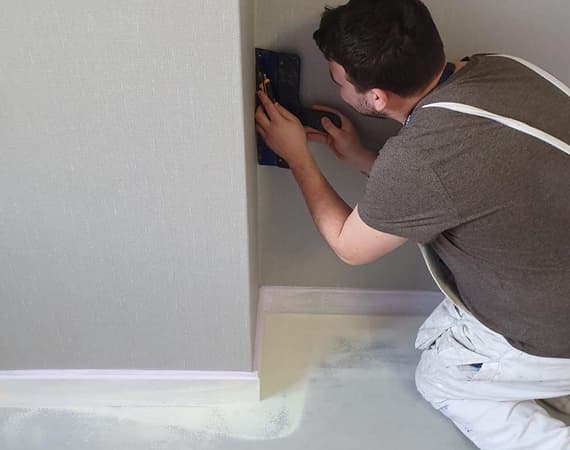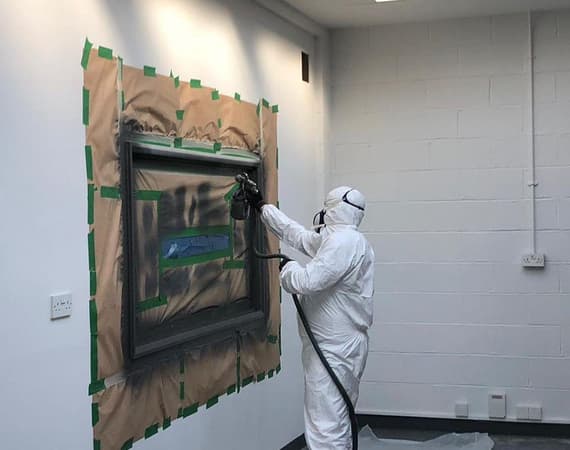 Head Office Training!
Here at our head office training facility, operatives were given the opportunity to enhance their spray application techniques using a variety of machines from airless to HVLP across a range of products.
Posted: 07 Feb 2020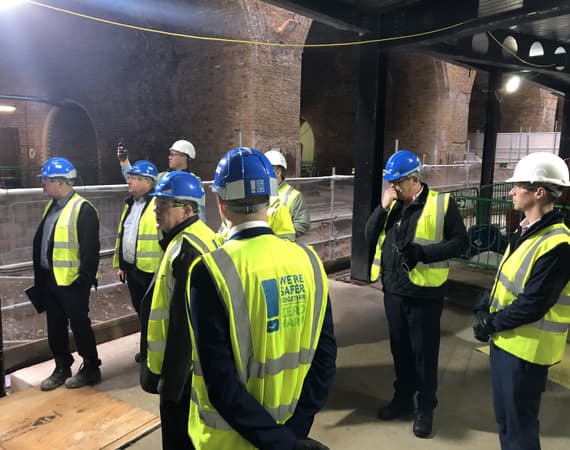 Borough Yard Project
Last week, members of the team in the commercial decorating division attended an important collaborative workshop with one of our main clients at the New Borough Yards Project, London. Safety performance, Customer focus and delivery of the project were the key points of the meeting agenda.

Posted: 03 Feb 2020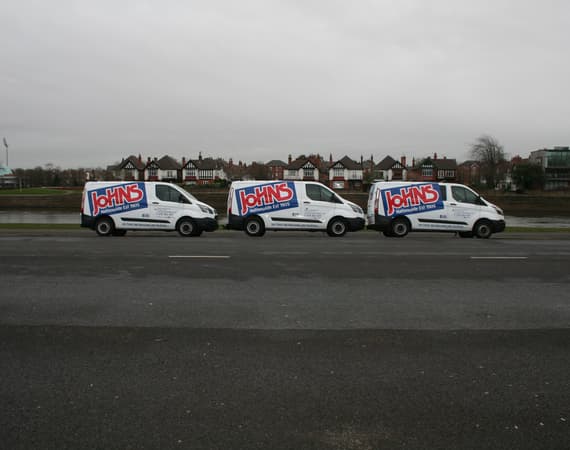 Updating our commercial vans!
Over the coming months you will start to see all our commercial vans being rebranded with our modern, yet classic looking logo and narrative. Keep an eye out for the vans across the UK!! 
Posted: 14 Jan 2020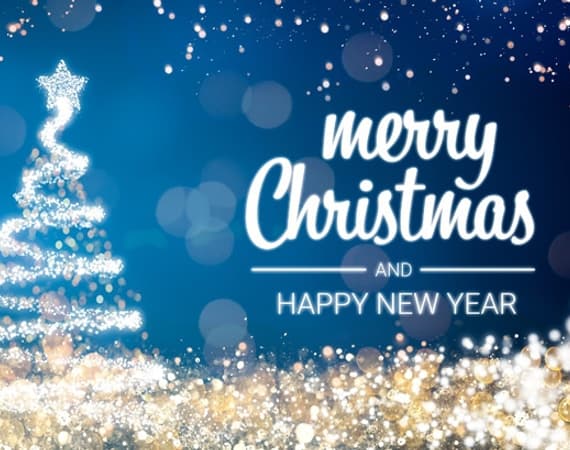 Merry Christmas and a Happy New Year!
All of us at Johns wish everyone a Merry Christmas and a Happy New Year! 
Posted: 20 Dec 2019
History!!
Bit of history!! The City of Nottingham Directory.... circa 1968.
'Johns (Decorators) Ltd' as we were called all those years ago, looks like we sponsored the front page!
Posted: 15 Nov 2019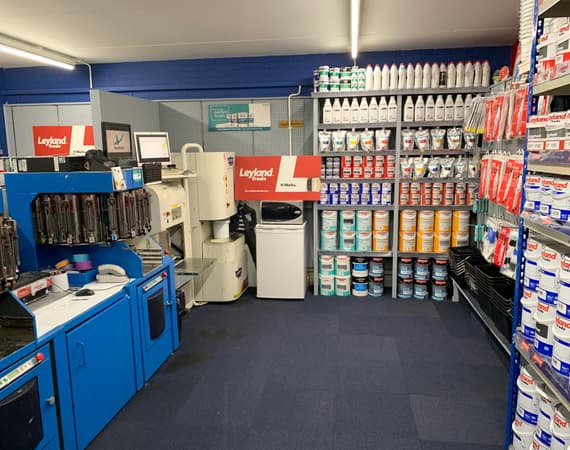 Revamp at our Decorating Centre!
The Decorating Centre at our Head Office has recently had a revamp to create more space and a better feel!
Posted: 18 Oct 2019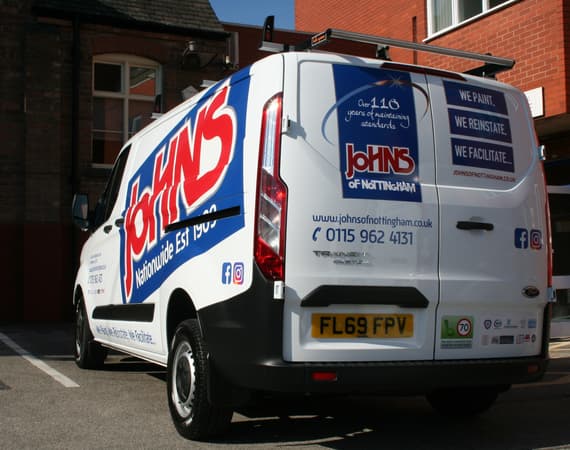 New 'Style' Vans
Johns of Nottingham have introduced a new style van to the fleet, what do you think....?
Posted: 02 Oct 2019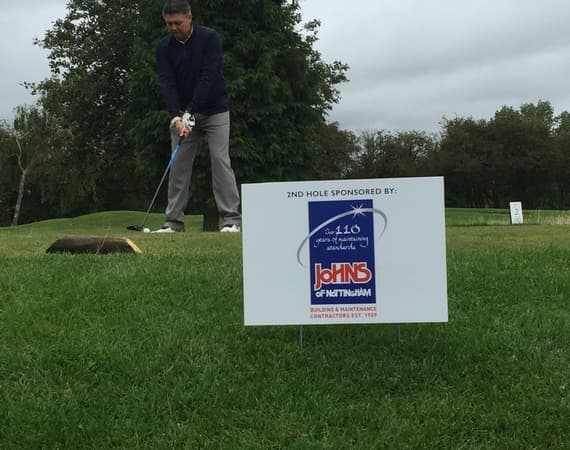 Smithers Purslow Golf Day - Gold Sponser!
Johns of Nottingham attended the annual Smithers Purslow golf day last Friday. This year, we were heavily involved with assisting the running of the day following our gold status sponsorship. A big thank you to all at Smithers Purslow for the invite and all at Johns very much enjoyed the day :)
Posted: 13 Sep 2019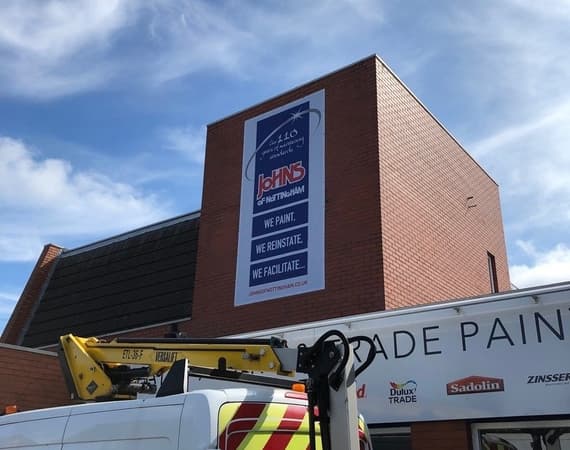 New Signs @ HQ and around the East Midlands!
Over the coming months you may come across signs similar to the one at the office on varied sites from all divisions. Keep an eye out for them...
Posted: 22 Aug 2019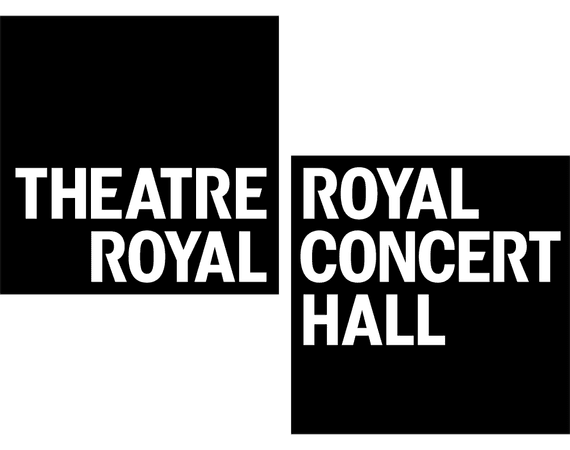 A New Royal Partnership...
Johns of Nottingham are delighted to announce our Royal Partnership with Theatre Royal & Royal Concert Hall, Nottingham. We look forward to this working partnership and what the future may hold 😊 https://trch.co.uk/join-suppor...
Posted: 15 Jul 2019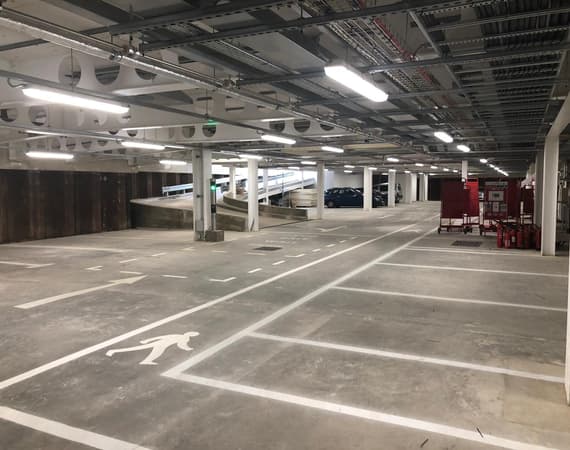 Project Update - Cambridge
Johns are excited be on the final stretch at one of our sites in Cambridge with works nearing completion! When finished it will be an 8 storey office block with an underground car park, suitable for a wide range of businesses.
Check out are Instagram page for more images here: https://www.instagram.com/john... :)
Posted: 06 Jun 2019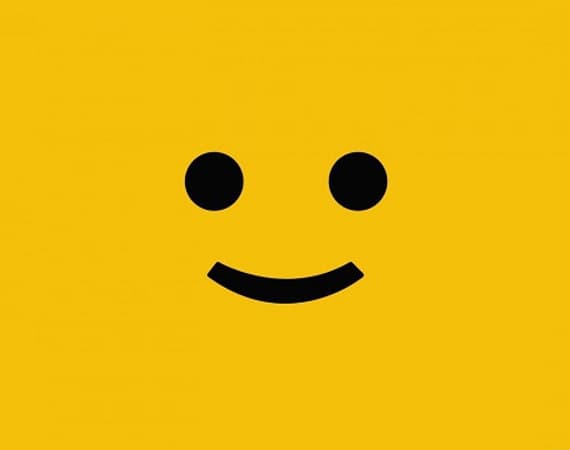 Mental Health Awareness Week 2019
In preparation for the Mental Health Awareness Week (13th - 19th May 2019). Our managerial office and site based staff undertook a mental health & wellbeing awareness course to enhance their understanding of how important mental health is inside and outside of the workplace.
If you would like anymore information on this subject, please follow this link: https://www.mind.org.uk/get-in...
Posted: 16 May 2019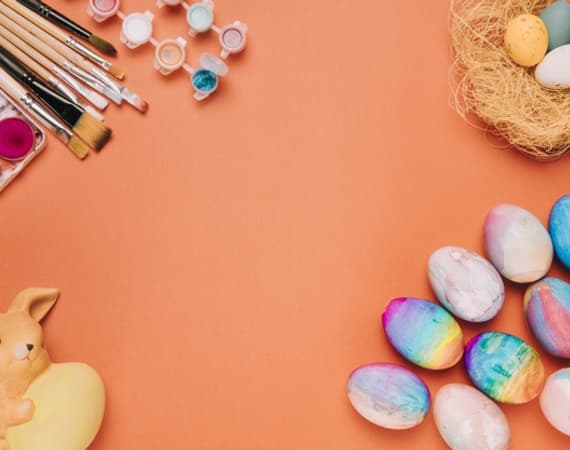 Easter 2019!
Wishing everybody a Happy Easter from all at Johns of Nottingham.
We hope you all enjoyed your Easter hunt :)
Posted: 22 Apr 2019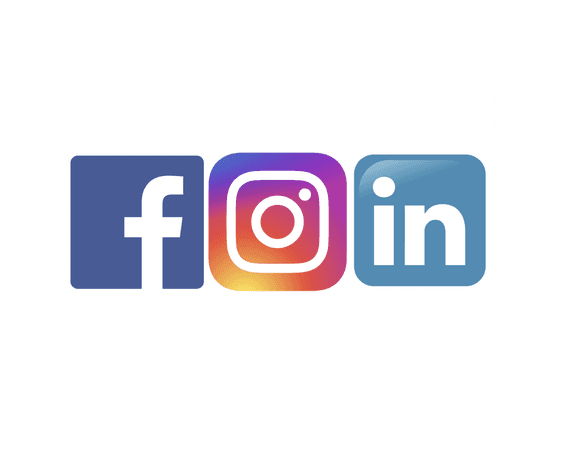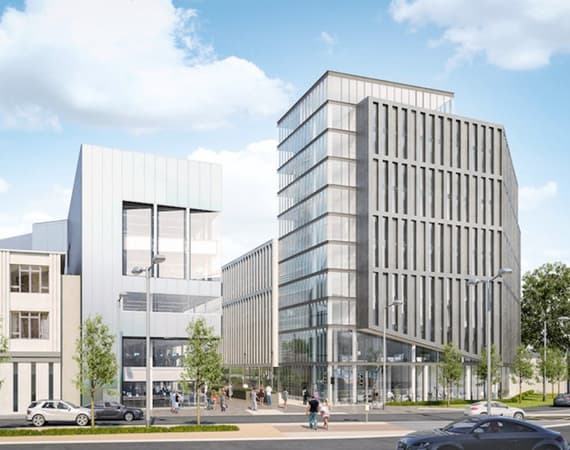 Recent Win
We are pleased to announce that Johns of Nottingham have been awarded the contract to decorate and wallpaper the new Adagio Hotel in Leicester. We look forward to working along side Morgan Sindall on this project.
Posted: 26 Feb 2019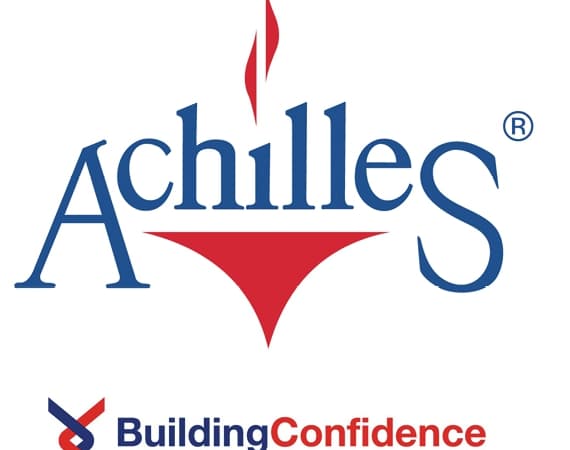 Achilles Audit Passed!
Following a two day Audit, we are pleased to have passed the 'Achilles Building Confidence' test. Well done team!
Achilles describes what they do, as follows: "Achilles and SSIP share a dedication to promoting health and safety for construction workers, as well as reducing unnecessary cost and confusion in supply chain assurance. Alongside PAS91, the SSIP accreditation puts our community at the forefront of standards in the UK construction industry. Our community meets the 'Deem to Satisfy' requirements."

Posted: 04 Jan 2019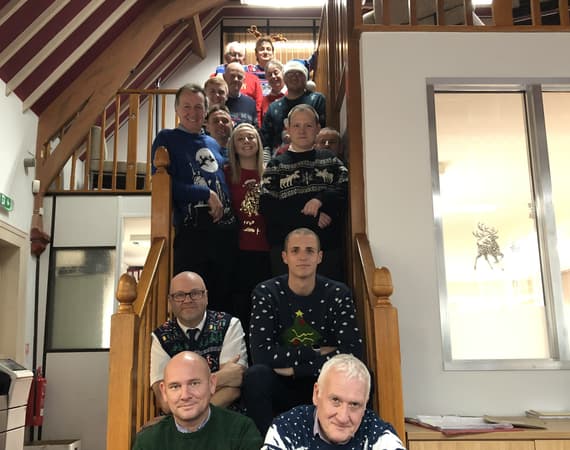 Christmas Jumper Day... with a twist
On the 14th December Johns of Nottingham held a 'Christmas Jumper Day' in the office to raise some funds for 'Stand up to Cancer'.
Merry Christmas from all at Johns :)
Posted: 14 Dec 2018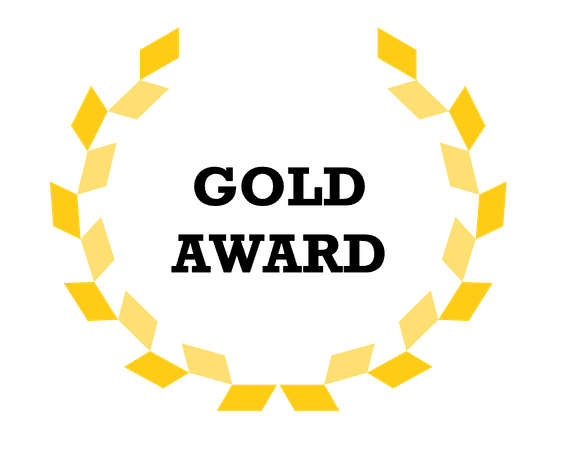 Bank Street Take 2 - GOLD!
Johns of Nottingham have recently won the gold safety award at one of our current projects - One, Bank Street, London. This relates to all the hard workmanship our employees and subcontractors have put in over the past 3rd quarter. This is an improvement since Q2 where we picked up the Bronze Award. Congratulations to all the team on & off site, keep up the good work... 
Posted: 21 Nov 2018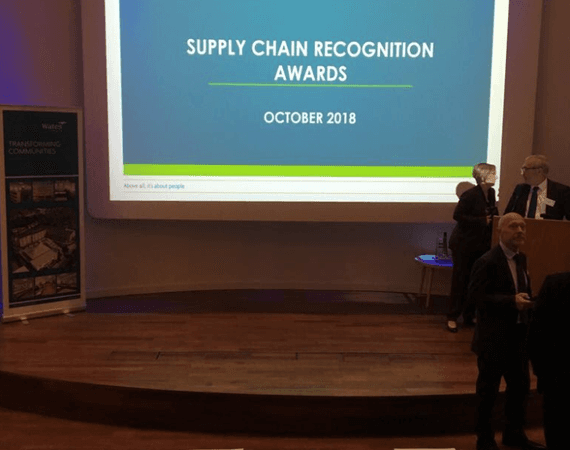 Wates supply chain awards!
Earlier this week, Johns of Nottingham attended the Wates supply chain awards in Cambridge. We thank Wates for the hospitality and a thoroughly enjoyed evening!
Posted: 19 Oct 2018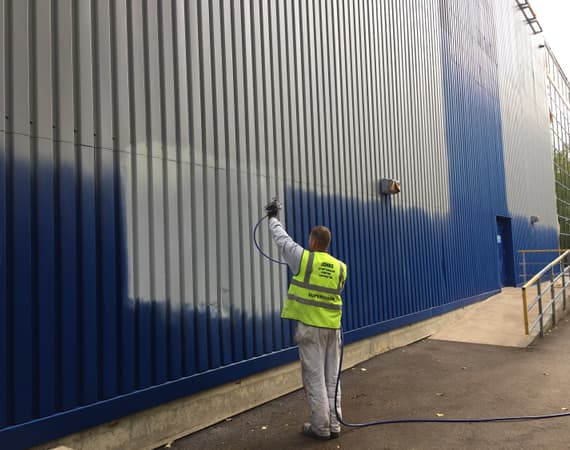 Fresh look at Nottingham's largest furniture store!
After months of preparation, Johns were delighted to be awarded the contract to re spray the external cladding at the iconic Ikea in Nottingham. Works are currently underway and are progressing on schedule.
Posted: 08 Oct 2018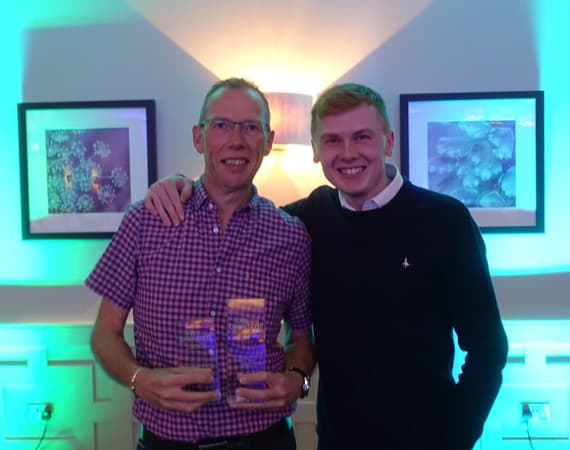 National & Regional Contractor of the year!
Congratulations to the whole team in the Insurance Reinstatement department for all of their hard work and efforts over the past year. Fantastic achievement and a great recognition...well done!
Posted: 25 Sep 2018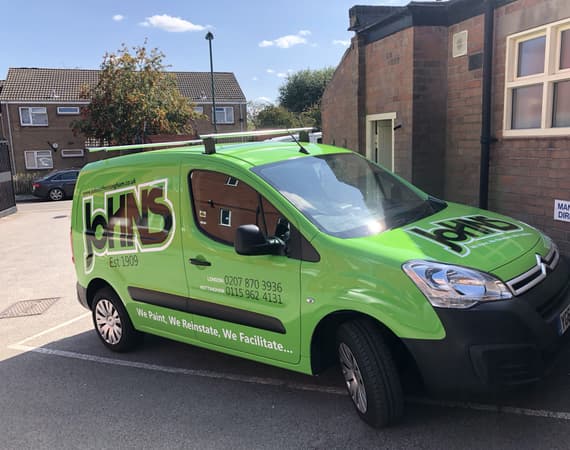 Latest 'Capital' Van
Whilst new van additions are frequent with our large directly employed operatives, we decided to change things in the capital city...London! 
Look out for our one of a kind van in the big city :)
Posted: 14 Sep 2018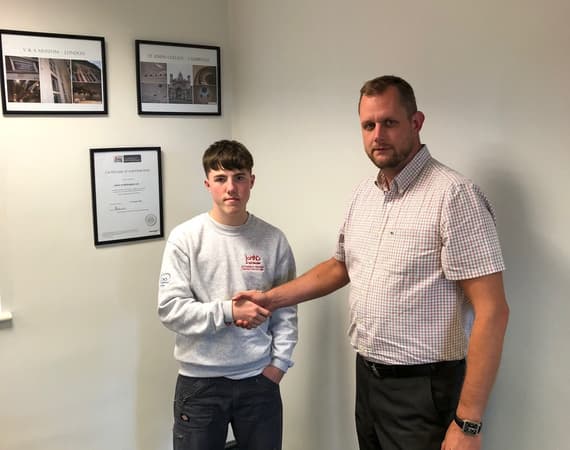 New Apprentice Joins The Team!
We welcome onboard our newest apprentice. Morgan will be starting college in the new term, whilst also training to be a painter and decorator. We wish him all the best.
Posted: 31 Aug 2018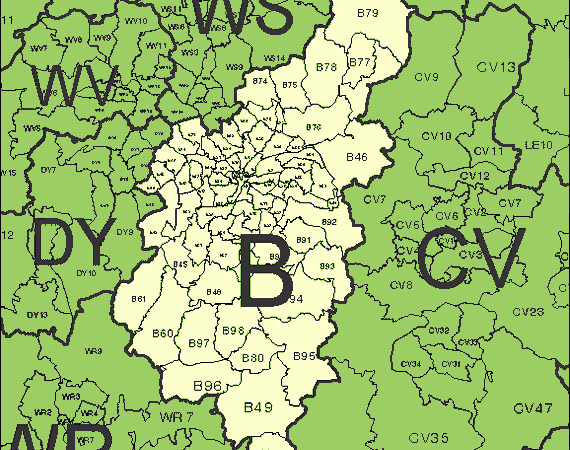 Breaking News...!
Johns of Nottingham have just secured 8 months worth of work across 11 different sites in the Birmingham area including Health Centres, Schools and Doctors Surgery's. Our Facilities Management division are looking forward to starting these works.
Posted: 22 Aug 2018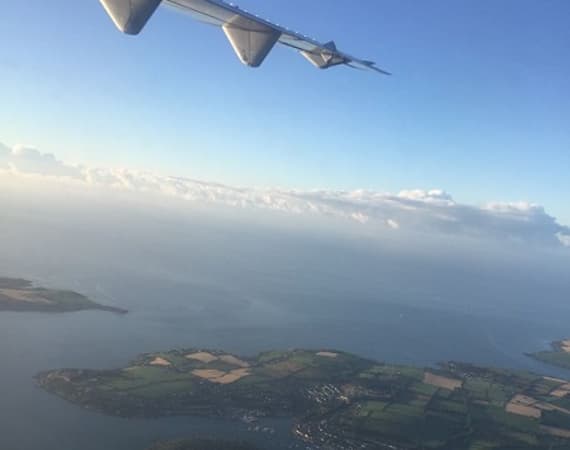 Travelling Overseas For Work...
Johns of Nottingham have recently secured some overseas work in Cork, Ireland for a well known retailer. We are looking forward to starting this work in early September.
Posted: 16 Aug 2018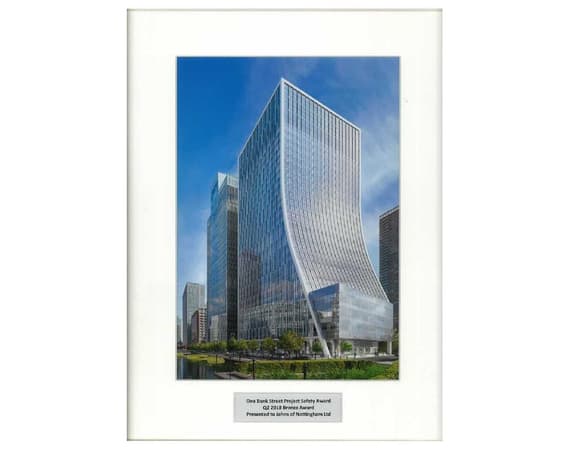 Bank Street Safety Award Achieved!
Johns of Nottingham have recently achieved the bronze award for overall site safety at one of our current projects - One Bank Street, London. The award means that Johns of Nottingham have sustained improvement in all aspects of Health & Safety over the quarter two period, on & off site. This is a fantastic achievement to receive and congratulations to all of the staff and team that have made this possible! Keep up the good work and hopefully we can achieve even more awards...
Posted: 30 Jul 2018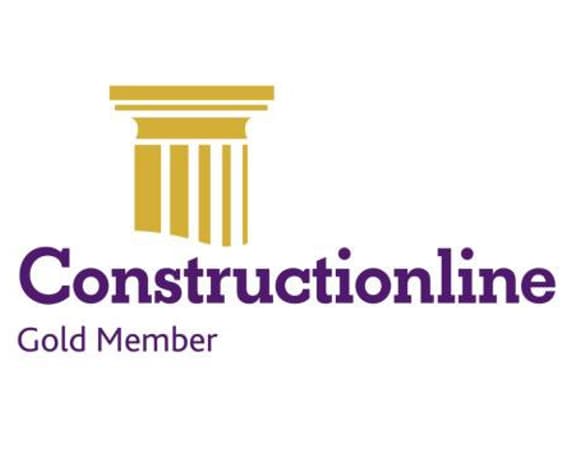 Upgraded to Gold Membership!
Johns of Nottingham have recently achieved an upgrade of our accreditation with Construction Line. Having previously achieved a silver membership, we have now been awarded a gold membership! This accreditation is important to us and is particularly useful for the contracts we work on nationwide. The improved membership demonstrates our continuing commitment to the high standards required and shows that we are complying and surpassing those requirements.
Well done and thank you to all of the staff who have worked towards this achievement!
Posted: 11 Jul 2018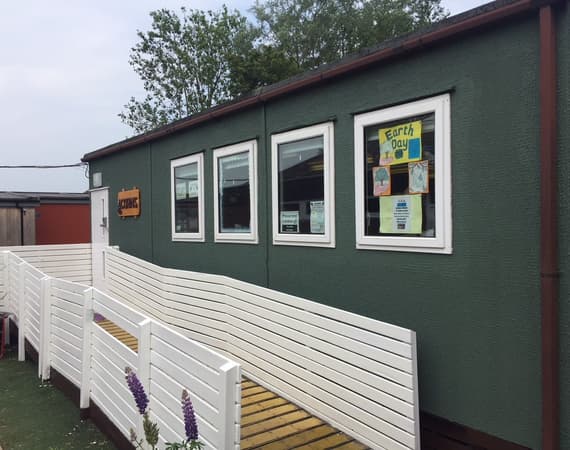 Helping the local community...
Johns of Nottingham recently donated external paint as a good will gesture to Bottesford C of E Primary School. Our Operations Manager, Charlie Wileen, rolled back the years and helped paint all elevations on the outbuilding including the decking. We hope this creates a more welcoming environment for all involved at the school...
Posted: 18 Jun 2018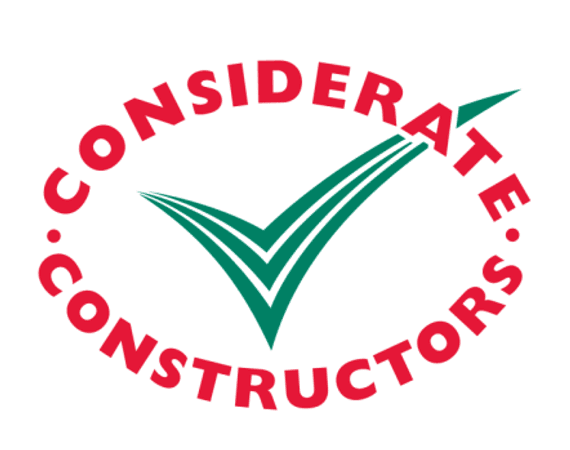 Considerate Constructors Scheme 2018...PASSED!
Following a recent audit undertaken at our head office, Johns of Nottingham are pleased to announce that we have passed for the second year running. This scheme is especially important when various contracts nationwide and we are delighted to be affiliated with the Considerate Constructors Scheme.
Posted: 15 Jun 2018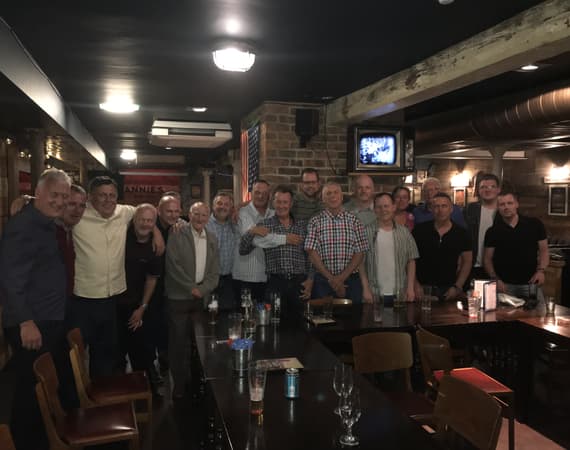 Kev retires after 44 great years!
All of the office staff at Johns of Nottingham partied the night away to celebrate an amazing 44 years Kevin Draper has achieved at the company. Friday (1st June) was his last working day with Johns, which lead to everybody gathering together to give him the best send off.
Joining the business at the young age of 15 starting as an apprentice painter and decorator. Kevin showed promise from the very start of his career, leading him to become a site foreman for a number of years and then ultimately progressing to the role he held at the business for most of his time with Johns of Nottingham, as a Contracts Manager. We wish Kevin enjoyment in his retirement and all the best for what the future may hold...
Posted: 04 Jun 2018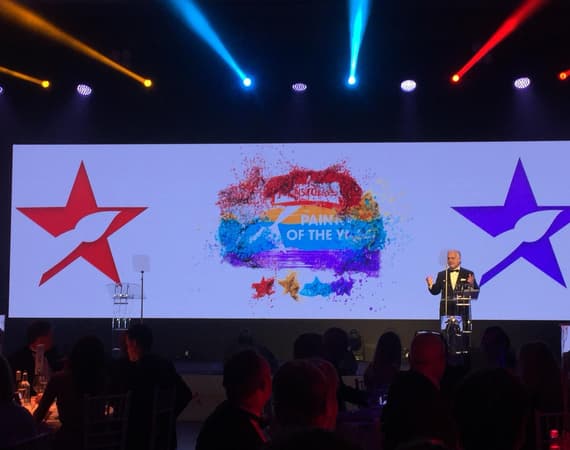 Johnstone's Painter of the Year 2018!
Johns of Nottingham were kindly invited to attend the Johnstone's Painter of the Year 2018 evening at the Manchester Deansgate Hilton Hotel! The staff who attended had a great evening and we are thankful to Johnstone's for the invite. We look forward to our trading relationship continuing into the future...
Posted: 14 May 2018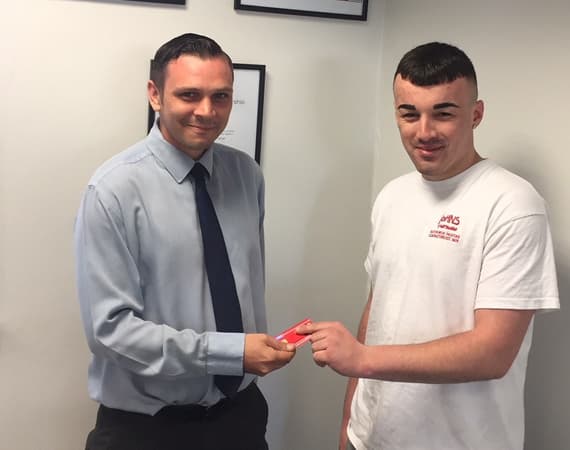 Apprentice passing his CSCS test!
Congratulations to one of our apprentices Stan for passing his CSCS test 1st time! Well done from all the team here at Johns.
Posted: 09 May 2018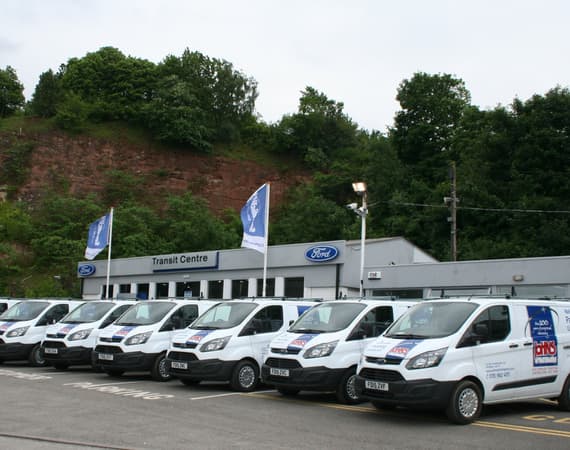 Fleet Upgraded!
We have recently purchased new vans to add to the ever growing company fleet.
Posted: 03 May 2018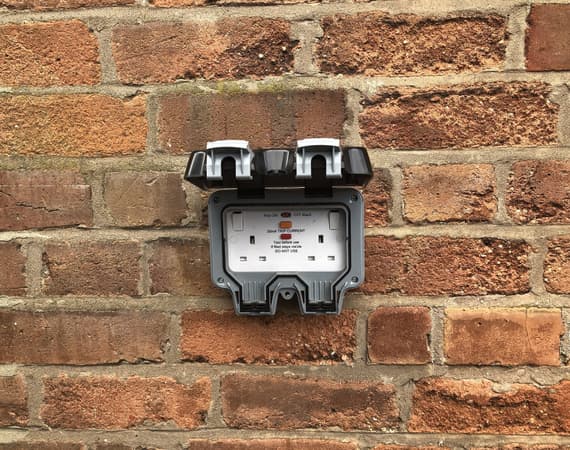 Doing our bit for the environment!
We have recently installed a plug in hybrid charger at our head office for all of our electric vehicles in the company fleet. We hope to add many more...
Posted: 03 May 2018